You'll hear how the band uses dynamics to build and maintain its message.   Bindman rides the waves of energy produced by Brown, hartigan, and Hirahara…
One can hear influences of West African and Latin music in the rhythms and the early 60s John Coltrane Quartet in the energy and in the searching…it rolls forward with an immediacy and excitement.…strong solos and mood changes, talking drums and dancing piano riffs, bouncing bass and lovely solos from Hirahara and Bindman…a multi sectioned dance through several powerful melodies and shifting rhythms.
Brown and hartigan have worked together for over three decades: they support each other, prod each other, and listen to the rest of the band.  Bindman has been along for all those years and he, too, shares a special musical relationship.  The pianist is the "new guy", 15 years, yet he, too, is an integral member of this working unit.
richard kamins, step tempest, July 2019
wes brown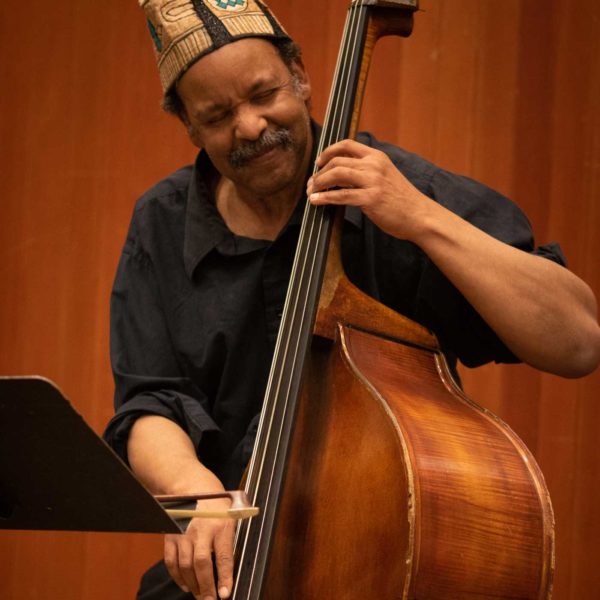 Contrabassist Wes Brown I recall from early dates with Leo Smith & Marilyn Crispell. His playing is consistently superb and often at the center of this splendid [David Bindman] sextet.
Bruce Lee Gallanter, Downtown Music Gallery
david bindman
Bindman seeks to create works that offer artistic alternatives to the greed and materialism that pollute people's lives and go against the natural world…Such diverse and disparate musical elements contribute to a profound sonic geometry, a big picture of sorts built on multiple conversations and varying perspectives.
Ed Enright, DownBeat
[S]tretched along the sonic color wheel for greater verisimilitude…[Bindman's] compositions pursue paths on which instrumental adaptability to bring in aspects of dissonance and/or tonality is paramount, but not so the narratives become secondary.
Ken Waxman, Jazzword
Whether in concert or on record — ideally, both — David Bindman is someone whose work you should become familiar with, because music this good needs to be shared.
Steve Holtje, Culture Catch
Jazz is at the forefront of the cultural renewal taking place in Brooklyn, and saxophonist David Bindman has been a quiet but leading force in that movement…Bindman and the ensemble imbue the spirit of enjoyment even as they adhere to an implication of social responsibility. They relate stories that are held together by collective musical memories. The ensemble's wide range of cultural appreciation is not a euphemism for world music. This is exceptionally creative jazz, at times played with great subtlety and sometimes with wild abandon.
Karl Ackerman, All About Jazz
The strong path developed by saxophonist and composer David Bindman, while centered in the new current of free improvisation, is marked by multiple artistic elements, which include archaic and cutting edge musical forms, rhythmic cycles and modalities from West Africa, India and other ethnic traditions of complex melodic explorations that are rarely heard; and a search for the integration of musically cohesive planes into an aesthetic ideology able to represent diverse world circles, feelings, history, and cultural heritages based on a mimetic concept of classical aesthetics… David Bindman completes here a successful creative circle born of his curiosity to understand the world.
Sergio Piccirilli, El Intruso
…smart, fun, and multiculturally funky.
Alexander Varty, Georgia Straight from the Active Musician Website
art hirahara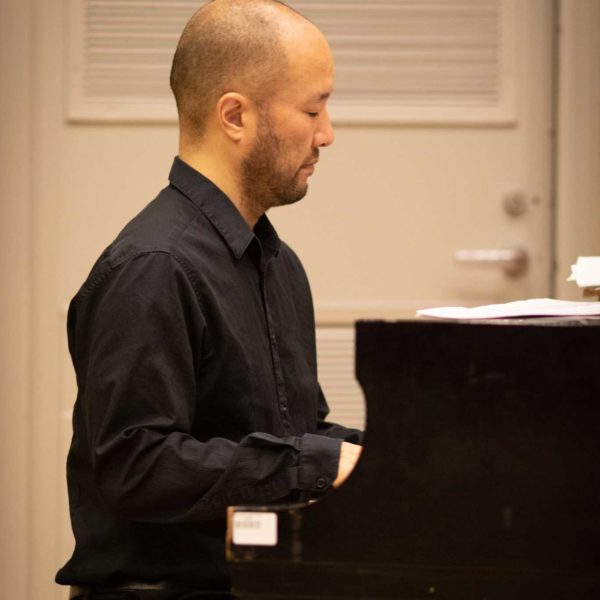 ….. an astute, well-traveled pianist making a breakout statement …..
Nate Chinen, The New York Times
High times are all well and good, but simply nothing compares to hearing Hirahara contemplate through the keys. His musings bring you into his world, a place where contrasts and Commonalities are both embraced and drawn out.
Dan Bilawsky, All About Jazz
[He] plays with a kind of effortless grace to make every song dance on your eardrums.
John Ephland, DownBeat Magazine
royal hartigan
royal hartigan has committed himself to living the music of the peoples of Africa and African America. He lives with our brothers and sisters in villages in our homeland, eats our food, dances and drums with heart. Whatever he does in his playing and sharing….is from his whole being and is the real thing.
Kofi Ghanaba ('Son of Ghana')
…..hartigan …..combines non-Western rhythms with a standard jazz quartet to create a series of impressive originals …..hartigan brings forth a powerful Africanized beat….
Music reviewer Ken Waxman
…..consummate drummer royal hartigan is a wizard who synthesizes his expertise in West African and Korean rhythms with jazz drumming.
Korean American choreographer, dancer, and musician Peggy Myo-Young Choy, Madison WI
royal hartigan is one of the great unsung heroes of the drumming world, and it is time the music community made an effort to sample some of the incredibly genuine sounds of his ensemble, blood drum spirit. royal, his music, and the personality of his group convey a consummate aural world view. The looseness, weight, and constant searching of his playing echo the voices ….of Max Roach, Ed Blackwell, Elvin Jones, and Tony Williams. His study of West African rhythm adds a profound sense of depth. royal is an old soul and a musical treasure.
Murray Gusseck, co-owner, Tapspace Publishing, world renown musician, composer, arranger, percussionist, and drumset performer, Vancouver, Washington
royal's work…..will provide drum set players with a 'new' vocabulary based on some of the oldest and most influential rhythms in the world. A ground breaking presentation!
from the Active Musician Website
…..a skilled performer with a deep understanding of the cultural milieus from
which these musics arise.
Wesleyan Professor emeritus and legendary ethnomusicologist David Park McAllester, Monterey, MA
blood drum spirit ensemble is the culmination of many years of work and a confluence of many different musical traditions. royal hartigan's ensemble seamlessly incorporates West African, Filipino, and Indian rhythms with the African American jazz tradition.
Leon Lee, Beijing, China
Royal Hartigan is a most vocal proponent of world music traditions…..uniquely expansive view of jazz and improvisation…… Blood Drum Spirit, is featured in this powerful new documentary directed by filmmaker and photographer Sarah Pettinella….. Hartigan states in We Are One that upon first hearing African music, he recognized its relationship to jazz. "It brought me to a place that transcends everyday life"….. Pettinella caught beautiful moments with village master musicians and average citizens alike….. master musician, dancer and international speaker Kwabena Boateng…..summed up the film's core in two sentences: "Music can change the world. And I think it's already done it.
John Pietaro, The New York Jazz City Record